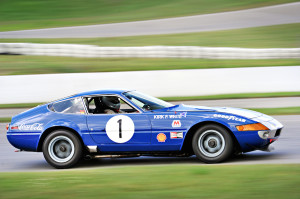 Welcome to our annual Track Event, at Canadian Tire Motorsports Park (formerly Mosport)!
This High-Performance Driver Education (HPDE) event is open to both FCA members, and non-member Ferrari and Maserati owners.
Once again, we are offering one Track Event this season.
Monday, July 24, 2017
Please register early so we will be able to arrange all the resources we'll need for a well-managed day.
Navigate to the different pages by going to the Track Day item on the menu at the top of this page and clicking on the different links in the drop down list.
There are SIX run-group designations:
Via (novice)
Scuola (intermediate/advanced)
Misti (Mixed Marque)
Piloti (Advanced lapping)
Istruttore (Instructor)
Family Touring (Lunch-hour only)
DOUBLE Your Track Time!!
Two run groups can effectively DOUBLE their track time within the schedule:
Scuola group may run in the Misti group;
Piloti group may run in the Instructor group.
The proviso is that students agree to run with the mixed marques in those groups.
Club Membership Requirement and Non-Member Exemptions
The driving event is organized as a Ferrari/ Maserati only event. We will also accept non-members through a membership exemption. We do hope non-members will appreciate what we do at the FCA and join to gain access to all of our events. Guests are welcome, however, they must sign all the waivers and wear the assigned wristband. We discourage pets at the track.
The Misti group is only open to FCA members. There are strict guidelines for this group. Please contact us if there are questions about eligibility.
Passenger Policy
Any instructor may take a passenger, providing the passenger is wearing the appropriate safety equipment.
Any signed off student (Scuola and Piloti) may take a passenger providing they have discussed the issue with our chief instructor, Derek Hanson, and providing the passenger is wearing the appropriate safety equipment.
Anyone carrying passengers must slow their pace in a significant fashion.
Passenger carrying cars will be monitored by the tower, as we must embrace a high level of safety enforcement with this increased responsibility.
Important Note:
All Ferrari/Maserati drivers participating in their first FCA event automatically start in either the Via (novice) or Scuola (some experience) group. Experienced track drivers will be checked out by an instructor on the first run and may be re-assigned to the Scuola or Piloti group at the sole discretion of the Chief Instructor. Final Run Group assignments for all drivers will be made by the Chief Instructor and Track Chair, based on driver ability, vehicle and space availability. There will be instructor(s) on track within the Piloti group to evaluate driver safety, at all times.
Tech Inspection
All cars must pass a tech inspection within 30 days of the event. This includes all instructors and students. An authorized dealer or an independent garage must complete the attached tech inspection form. You must bring the completed tech form to the track at which time a tech sticker will be affixed to your car. (Limited tech facilities may be available at the track. However, there could be delays that will cut into your track time.) All Misti group members must arrive at the track with a completed tech form.
Convertibles
In accordance with rules mandated by the National FCA organization, all convertibles must be equipped with a Roll Bar in order to run in the Scuola or Piloti run groups. Convertibles without a roll bar can run in the Via group only, and cannot have non-DOT (racing) tires. Targa-type GTS models, 360/430 Spyders and the new Maserati Spyders are permitted in all run groups. F355 convertibles must comply with special rules, or will be designated to run in VIA. F355 convertible owners must speak to the track chair for details, in advance of registration (Email preferred).
Passing Policy
Our Region's rules are that the passing car always must pass on the RIGHT. Signal the faster car to pass on your RIGHT SIDE. The car being passed is always on the LEFT


Please contact Aaron Snyder,  Aaron.Snyder@investorsgroup.com with questions.